Estelle Gitta
Ch. François-Lehmann 2
1218 Grand-Saconnex
Tél: 022 798 27 20
Contact

© Editions Eclectica 2006-2009



Membre
Terror and Humiliation
How do we deal with feelings of humiliation when they become overwhelming? How can we prevent humiliated people taking revenge on defenceless victims? Joint authors Gilbert Holleufer and Philippe Cotter provide new insights into these pressing issues, in a world thrown off balance by the demise of the great ideological blocs and by the 9/11 attacks.
The first part of the book examines the role that feelings of humiliation play in armed conflicts. It is based on the Harvard Reports (Afghanistan, Israel/Palestine, Bosnia) compiled by Gilbert Holleufer and a small group of researchers following the People On War survey commissioned by the International Committee of the Red Cross (ICRC) in 1999.
In the second part, Philippe Cotter's analysis of violence and humiliation provides a frame of reference centred around three axes: socialised violence, controlled by a set of rules accepted by the group, extreme violence, destructive because it knows no limits, and social violence (mobbing, bullying), often invisible but nonetheless devastating for its victims.
"Ex-combatants interviewed during the People On War survey recounted how their experience of war confounded any hope they might have held of recovering their lost pride through the use of force."
Terror and Humiliation, p. 19
Translation Helen Mistry
© Editions ECLECTICA, 2010
People On War
Around the World
Selection of photographs taken during the People On War survey commissioned by the International Committee of the Red Cross (ICRC). This large-scale consultation, involving 14.000 interviewees and 100 focus discussion groups, was carried out in twelve conflict zones to mark the 50th anniversary of the Geneva Conventions in 1999.
Photos selected by Philippe COTTER and Estelle GITTA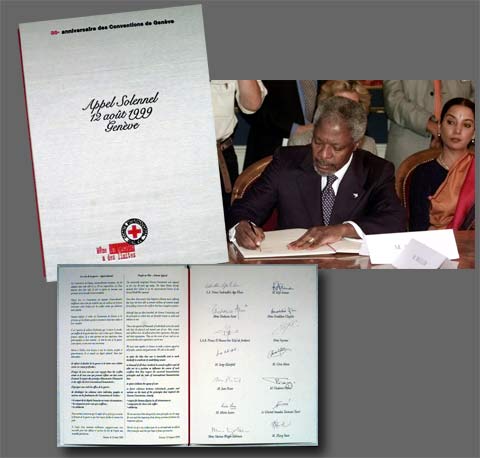 UN Secretary General Kofi Annan signs the Solemn Appeal in the Hôtel de Ville, Geneva Switzerland, 12 August 1999 (
Text online ICRC
).
© ICRC / Fred Clarke, 1999